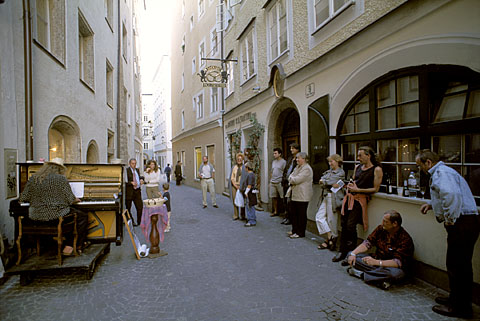 Salzburg
2002


"Forget the damned motor car and build the cities for lovers and friends."

Lewis Mumford, 1979
News at Carfree.com
Carfree Times Is Changing
The first single-theme issue of Carfree Times, "Stop the Oil War," appears to have been the most popular ever. On the strength of this, we are changing to themed issues. The news stories that once dominated this newsletter will now be incorporated into the theme if appropriate and otherwise placed near the end in very short form.

This change is a sign of the success that the carfree movement is finally achieving. The issues we have focused on for so long have become mainstream (see example at CBC) and no longer require detailed attention in Carfree Times. The current issue will assess the past, present, and future of the carfree movement, which was one of the central questions addressed at the Towards Carfree Cities III conference recently concluded in Prague.
Carfree Eco-Village Formation
A group dedicated to the prompt establishment of a carfree eco-village is now collecting personal visions of carfree eco-villages. If you want to help develop this concept, visit the list server.
Carfree Cities Availability
Both the paperback and hardcover editions of Carfree Cities are widely available. The paperback edition costs US$17.95 in the USA and the hardcover $29.95. For details, see the Ordering Information page. The hardcover edition will probably go out of print this year.
The Carfree Movement
Past, Present, and Future
This seems to be a good moment to assess the progress of the carfree movement as it has developed over the years and to consider future directions and efforts.
The Past
We won't dwell on the past, but it's worth quickly reviewing our history.

1895 - the first motorcars hit the road.
1896 - the car claims its first victim, in London.
1916 - US road vehicle production exceeds 1,000,000 for the first time.
1936 - the Road Gang begins dismantling the USA's streetcar service.
1953 - Dutch engineer Valderpoort publishes "The Selfish Private Car."
1956 - the US Interstate Highway program is launched.
1965 - US vehicle production exceeds 10,000,000 for the first time.
1965 - De Alternativ Stad proposes to make Stockholm entirely carfree
1970 - US oil production peaks.
1970 - the first Earth Day is celebrated.
1970 - Charles Fraser opens the carfree promenade at Sea Pines.
1973 - the Netherlands responds to the first oil crisis with carfree Sundays.
1979 - the second oil crisis.
1985 - Making Cities Livable holds its first conference, in Venice.
1991 - the USA goes to war for Kuwait's oil.
1991 - Amsterdammers vote to reduce car usage in the center city by half.
1996 - predecessor site to Carfree.com goes on line.
1996 - Carfree Reference Design published at Shanghai conference.
1997 - first Towards Carfree Cities conference held, in Lyon.
1997 - first issue of Carfree Times published.
1997 - La Rochelle, France, holds first contemporary carfree day.
1998 - Car Busters magazine first published.
1998 - carfree days held in dozens of cities in France.
1999 - carfree days become widespread in European cities.
2000 - Carfree Cities published.
2000 - Bogotá holds the first contemporary city-wide carfree day.
2002 - over 1400 European cities hold a carfree day.
2003 - the USA again goes to war for oil, this time in Iraq.


Against this background of signal events, some important trends developed in the past 50 years.

Europe had largely dismantled its tram systems in the 1950s and 1960s, but they started coming back years ago and are once again widely applied. Most new trams are 100% low-floor designs and much quieter.

European public squares, often used as parking lots during the car's brief supremacy, have been reclaimed as outdoor living rooms. On-street car parking is no longer considered a right; once free, it has become quite expensive in many cities, which has helped to hold car usage in check.

Almost any respectable city center in Europe now has at least a small pedestrian zone, usually at the very heart of the city. These spaces are delightful and are among the busiest social spaces in town.

There is now general understanding that oil reserves are finite and that global warming requires us to reduce CO2 output. My sense is that most people think the supply problems are 25 years away, but it seems likely that structural shortages will develop before the end of this decade. Still, this won't come as a complete shock when it occurs.

The past few years have seen an explosion in the number of news stories on the health effects of cars. Some awareness that cars are very costly to the larger society has also developed. News coverage now often includes what would have been inflammatory statements just a few years ago, e.g., "The US has paved itself into a corner. Its physical and economic infrastructure is so highly car dependent that the US is pathologically addicted to oil." [in the Manchester Guardian].

Perhaps most important is that highway engineers have finally admitted defeat - they have acknowledged that roads cannot be built fast enough to keep traffic flowing freely. This has led the profession to consider how to allocate a scarce resource. It has also led to an understanding among most of these professionals that their objective is not to send cars speedily on their way but to develop a transport system that functions for everybody. In many cases, this means using traffic calming techniques to slow cars.

The picture is least encouraging in the USA. Only Seattle has ever held a carfree day, although Portland is now planning one. The New Urbanism has taken hold in the USA, which signals the end of blind acceptance of unfettered automobility. Some cities, such as Boston, have implemented small carfree zones that have been very popular. The most disturbing trend in the past ten years is the exploding popularity of SUVs, the worst gas-guzzlers of all time. US auto mileage and transport fuel consumption are at all-time highs (saving aside very minor declines during the current protracted recession).

So, perhaps we find ourselves in a world that is finally ready to hear our message, if not yet to act upon it. Real progress, in the form of declining air pollution, reduced fuel consumption, fewer deaths on the highways, and safe streets, must come in the next phase of our work.
The Present: Towards Carfree Cities III Conference
Sixty participants from across Europe and beyond descended on Prague in mid-March for a week-long conference. Presentations, round-table strategy sessions, a press conference and public day, a walking tour, and a bike ride kept participants busy from morning until late at night.

Oscar Edmundo Diaz, organizer of the first-ever city-wide carfree day, presented "Bogotá, Colombia: From Congested Chaos to World Model for Livable, Egalitarian Cities." He also conducted a workshop on the future of carfree days and the techniques for organizing one. The accomplishments in Bogotá, a poor city beset by problems, remind us just how expensive it is to cater to cars and their drivers, and how much can be accomplished with a little money when it is applied to providing better sidewalks, bike paths, and an improved bus system. In October 2000, the citizens of Bogotá voted to exclude cars from the city in the morning and afternoon peak hours starting in 2005.

Lars Gemzøe, co-author of New City Spaces and Public Spaces - Public Life presented "Public Spaces - Public Life: Urban Design with the Pedestrian in Mind," largely framed in the context of the movement to make the Strøget in downtown Copenhagen carfree. Starting more than 30 years ago, many streets in this city of long, cold winters were made carfree. Locals had thought nobody would take advantage of the newly pedestrianized streets, but it turns out that "there's a little Italian in all of us." This small area is almost certainly the most heavily used space in Denmark, and the number of people in the area has climbed steadily as more and more of it has been pedestrianized.

Kirstin Miller, of Ecocity Builders in Berkeley, presented "Roll Back Sprawl, Rebuild Civilisation!" which followed the theme of rebuilding our cities in harmony with nature. The loss of species habitat is a serious concern, and cars are polluting many of the remaining natural areas.

Professor of Environmental Studies John Whitelegg, author and transport consultant in the UK, presented "Wrong Way, Go Back: A Guide to Intelligent Transport Planning." Whitelegg delved into full-cost accounting for automobility.

Randy Ghent offered "Medieval Urbanism in Morocco: Lessons for the Modern World," a summary of last year's study trip to Morocco, nicely illustrated by photographs. The Fes-al-Bali medina, thought to be the largest contiguous carfree population in the world, came in for especially close attention. Both passenger and freight movement in the medina are entirely by muscle power.

Your editor also gave his usual presentation on the carfree alternative, including the Reference Design for carfree cities. He also facilitated a workshop on making the carfree movement more effective, a theme we will consider further in the section on The Future, below.

Car Busters will decentralize into a global network with a small central office to provide resources and help the various national groups to work productively. A new, less confrontational name will be chosen for the public face of this work, in order not to scare off politicians.

Above all, the productive, high-energy week resulted in the forging of invaluable relationships and a strengthening of the international Car Busters network. The network, it was decided, will hold a Towards Carfree Cities conference annually in Central Europe, with TCFC IV to be held in July, August or September 2004, probably in Berlin.

Aside from the continuing conference series, priorities were established for a number of collaborative projects during the coming year and in the long-term, such as a website aimed at officials and planners, and the founding of a Carfree Institute in Venice. The conference also wrote a proposal for a coordinated global World Carfree Days program, which was then delivered in person by Oscar Edmundo Diaz to the European Union and the United Nations.

Discussions are continuing at Carfree Network. Following on from the conference, the Carfree Eco-Villages list was created for those interested in establishing one or more explicitly carfree eco-villages in Europe or elsewhere.
The Present: Great Strides in Lisbon
Lisbon's new mayor, Dr. Santana Lopes, has taken the daring step of instituting strong traffic controls in Lisbon's historic Bairro Alto area, just a kilometer or so from the center of town. The area in question is a sub-district known as Encarnarnaço. Three other sub-districts in Bairro Alto were not included in the initial phase, but one of them, Santa Catarina, may soon join the plan.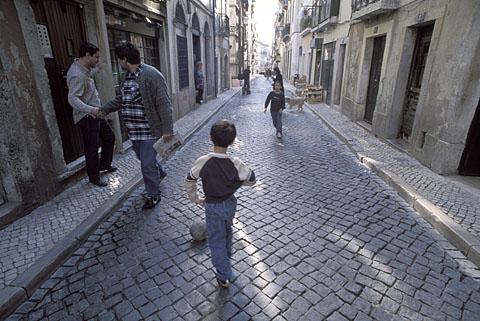 Bairro Alto
2002

The streets are not carfree, but many pedestrians are now forging fearlessly up the center of the narrow streets, a sure indication that the car is no longer king. The new regulations ban cars from the area, except for those that belong to residents and area businesses. Delivery trucks are permitted into the area for three hours in the morning and two hours in the afternoon, but no truck is allowed to remain in the area for more than an hour. Businesses may bring their own cars into the area for up to an hour-and-a-half. These regulations are enforced by the municipal parking agency EMEL and by bollards that sink into the street to allow authorized traffic to enter.
The area is almost a prototype for carfree cities, except that it is somewhat denser than proposed in the Reference Design for carfree cities. The streets are about 16 feet wide, blocks are quite short, and buildings range from 2 to 6 stories tall, with the majority around 4 stories. Interior courtyards are very small, and the FAR (Floor Area Ratio) appears to be at least 2.0, whereas the Reference Design proposes only 1.5, in order to provide more access to green space.
This is a popular entertainment area, with many small restaurants and other small businesses, plus a market. The breakdown is as follows:
13 bars/pubs/taverns
33 cafés/snack bars
60 restaurants
2 discos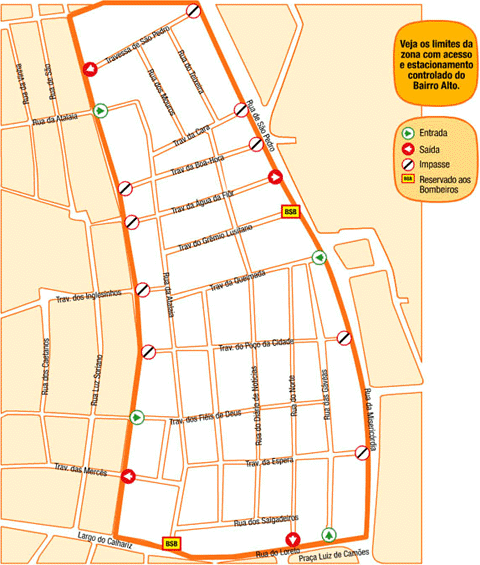 Map of the Encarnarnaço Carfree Area

Encarnarnaço is located on a hilltop just above the center of town. It is a steep walk up from the central Rossio area, but an elevador (funicular) carries people up to the neighborhood from the low-lying central areas.
The area has become noticeably quieter, and there are long stretches of streets with few or no cars visible. Previously, people parked on the sidewalks, in order to allow other traffic to pass in the very narrow street. This, of course, made life difficult for pedestrians and sometimes also blocked someone's front door. These problems have vanished.
Some private parking garages on the perimeter of the area agreed to offer residents of the neighborhood reduced rates for monthly subscriptions, which has eased the parking burden for some residents.
The scheme was implemented on 1 December 2002 after several months of planning. The effort included a publicity blitz to inform area residents and included information on nearby public transport service.
Minor Problems
Much parking has been displaced to adjoining areas, which worsens the parking situation for residents of these areas. There is talk of building new multi-story garages on the perimeter of the area, but this will take many years.

Despite a few problems people generally seem to support the initiative. It is working well enough that four other areas of the city have expressed interest in adopting the same measures, including the Castelo district near the Roman fortification. Other areas being considered are Alfama and Moraria. The improvement in the quality of life seems to be worth the comparatively minor aggravations.
The Present: Congestion Charging in London
On 17 February 2003, central London introduced congestion charging; it now costs £5.00 per day to drive in the area. Enforcement is provided by cameras that read license plates and compare the numbers with a list of those for which the fee has been paid for that day. On the first day, the number of cars entering the cordon zone dropped by about 60,000. Average speeds in central London doubled. Mayor Livingstone, author of the plan, staked his political career on the success of the plan. The New York Times, in an article published just after the start of congestion charging, said:
The exchange [between Livingston and a reporter], however, goes straight to the heart of cities' tangled history with the automobile -- undoubtedly the most inefficient, and most aggressively defended, means ever conceived for transporting large numbers of people through crowded places. The idea of using a price tag to regulate driving into crowded places has been around for years, but its progress has been slowed by two problems, one big, the other gigantic. The first was simply technical: how would you charge for entry into entire cities or neighborhoods without putting tollbooths everywhere and causing more congestion? . . .

The gigantic problem is political. Since at least the end of World War II, the battle between cars and cities, a battle over the shape of the city itself, has been an epic mismatch. An oversimplified chronology would read something like this: the car helps to create sprawl; sprawl siphons people and political power away from the hearts of cities; the car returns to attack the city, which was never designed to accommodate so many; the city is forced to transform itself, ceding sidewalks to streets, trolley tracks to traffic lanes, parks to parking lots, whole neighborhoods to expressways.
What is astounding is to read prose like this on the topic of cities and cars. It would have been all but unthinkable to publish this in the USA's leading newspaper five years ago. The article goes on to enumerate the powerful forces that continue to support urban driving in the face of reason: garage owners, automobile clubs, and road builders. These forces "have portrayed unfettered access to public tax-supported roads as something like a modern amendment to the rights of man," as the Times put it. The article recalls that former New York mayors Lindsay and Koch had seriously considered far-reaching measures to control automobile usage in Manhattan, but had backed down in the face of powerful opposition.

The article continues:
Though it might seem like a relatively new phenomenon, saturation traffic has existed in many cities for decades, virtually unchanged. Depending on whom you believe, it is incredibly destructive, costing London alone over $300 million a year in lost productivity and revenue just because of congestion in the tiny central portion of the city. . . .

. . . by the 1960's, only a half-century after the car came into common use, economists and traffic planners were starting to notice that new roads seemed only to create more traffic.
. . .

"We're addicted, really," Bev Ramsden, a veteran taxi driver and dispatcher, told me one wet weekday morning, inching down the A4 highway through the gray margins of Hammersmith, nowhere near the most congested part of the city. "Like addicts, I think we're getting to the point where we're realizing how crazy this is. Someone's got to do something."
And someone did.

The success of the plan shows in the speed with which the issue disappeared from the news. For weeks running up to the start of congestion charging, the media was full of discussion of the issue and dire predictions for the outcome. Within the first few days, the prophecies of doom were shown to be wrong.

One critical point that has not received the attention it deserves is that the vast sums of money being collected from motorists are being used to improve public transport. The London subway ("the tube") was already pretty nearly at capacity, so large numbers of buses were added, and now that the traffic has eased up, they are actually able to provide reasonably quick and reliable service.

The article is also careful to note that Singapore had had a much more costly congestion-charging system in operation for 25 years, and that car ownership in that city is just 1 in 10 city residents. Parallels were also drawn with Manhattan, where repeated efforts to tame traffic have failed. The similarities between the two cities are important. "In both cities, as packed as the roads can be, more than 80 percent of workers take some form of mass transit into the central city every weekday morning. In London, as in New York, some drivers are poor. But most tend to have money -- enough to generate political pressure to protect their choice."

The project has been successful enough that 35 other cities in the UK are interested in implementing similar systems. New York is now mentioned as the next candidate for congestion charging. New York's Mayor Bloomberg takes the subway to work. If you drive to work in Manhattan, prepare to pay for the privilege.

And a footnote: "In 1907, with trolleys and traffic lanes, the Brooklyn Bridge carried 426,000 people a day; now, with space only for cars, it carries far less than half that number and is often jammed."
The Future
The progress that has been made in the five years since the first Towards Carfree Cities conference is, in many way, far greater than we might have expected. At the time of that conference, the word "carfree" had not come into wide use, and contemporary large-scale carfree experiments were either still on the drawing board or completely off the map. The way the carfree movement has blossomed is impressive, perhaps even surprising. However, during the discussions leading up to the Prague conference, I said:
We have carfree days, we have books, we have magazines, we have web sites, we have conferences. Nothing has changed. More people are dying on the roads than ever before. More oil is being burned in cars and trucks. Fewer kids are walking to school. We've had "progress" but we haven't had results.

In the next five years, we need to see fewer people dying on the roads, lots fewer. We need less oil consumption, much less. We need more kids walking to school, lots more. We need results. There's very little time. Tens of thousands have gone to Rio and to Johannesburg. Nothing has changed. Since Towards Carfree Cities I, more than five million people have died on the roads, another fifteen million from air pollution.

I think we need to devote this conference to the question of how we can become 1000 times more effective than we have been. How we can reach millions instead of thousands? How we can reach them with messages that will move them to action, not just nodding their heads? How are we going to achieve real change in the next five years?
At the conference, we took up this theme in a work group running across three days. We looked at the big picture. What are the barriers to carfree cities? How do we build support for them at every level and across institutions? What resources do we have? Which coalitions should we form? And most important, what do we do next? The answers to these questions, as adopted by the work group, are as follows:
New Tasks
The following new tasks are to be started within a year:
List Server Discussions
The following new list servers are proposed:
Annual conference and general issues
List to develop a web site for bureaucrats and politicians
Carfree Eco-Village development
Fund raising (coming)
Humor, jokes, funny photographs, with wide distribution (planned)
World Carfree Day coordination (possibly in an alliance)
Annual Conference
It was decided that the movement needs an annual conference, preferably in central or eastern Europe, so that activists from the developing economies in eastern Europe can afford to participate. The EU plans to make these countries into auto-centric nations in the image of western Europe, and activists from this region need all the help they can get. The next conference, in 2004, will probably be held in Berlin. The 2005 conference may be hosted in Hungary.
Fund Raising
A web site with links to existing resources for grant writing will be established. The site will also include a list of funders/relevant foundations likely to support our work.
Develop New Internet Site for Bureaucrats
This is the site that will be developed on the basis of the list server discussion mentioned above. The existing Car Busters site will continue to serve the needs of activists and non-profit groups.
Continuing Projects
The following on-going projects will be continued and expanded where possible:
Comics, Cartoons, Other Resources
Car Busters and its allies have developed and published a variety of books and pamphlets that support activists and offer the general public another view of automobility.
Connecting with Other Carfree People
We will develop an on-line database of people who are interested in helping with carfree projects for long or short periods. This will include skill sets and interests.
Expanded Projects
We want to increase our level of activity in the following tasks:
Library
We need to expand the library with research studies, books, images, and videos. There is not as yet any action on this point, but Carfree.com plans to support it by making its large stock of images available.
Collect Data
We have already collected some economic, sociological, and statistical data. (Never forget that VTPI offers its free on-line Transportation Demand Management database, which is the best single resource I know of on this topic.) We will add to the data set and make it more readily available. We need to be careful not to repeat work that VTPI has already done.
Translation Resources
We need to develop translation resources from English into other major languages. (The Introduction page at Carfree.com has now been translated into six languages (see the home page), with many more still needed. If you can volunteer to translate this page into your own language, please send mail.) Translators will be added to the resource database.
Campaign Tools
Organizers need access to graphics, media kits, press releases, logos, photographs, etc., at no cost via the Internet.
World Carfree Day Coordination
At the moment, carfree days are most often organized for mid- to late September, with a variety of dates depending on the sponsor. Car Busters launched the first World Carfree Day in 2000 and expanded this to World Carfree Days in 2002, arranged so that European Mobility Week fell within the date range. European Carfree Day is another initiative, with more than a thousand cities participating.

Eco-Plan had offered a large and complete site available to any municipality engaged in planning a carfree day. Unfortunately, this site is no longer very active, and a substitute may be required. The UN launched its Carfree Days Collaborative on 30 April 2003, although it is not yet clear what this initiative entails. A Proposal for a World Car-Free Days Program was developed and signed during the Prague conference and presented to the EU and UN.
In Later Years
We also identified an enormous amount of vital work that we simply do not have the resources to undertake during the coming year. Some of these tasks will require the establishment of a carfree institute before they can be tackled. In brief, these tasks are:
Carfree institute, preferably in Venice
Psychological research into the "love affair with the car"
Public relations effort including news releases
Summaries of various issues for general public
Syllabus on cities and cars for all grade levels
Speakers' bureau
Media response
Support for giving up driving ("autoholics.org")
Slide show
Broadcast-quality videos
Folk songs
Pre-recorded public service announcements
Referral service for architects, planners, green builders, etc.
Helping the Carfree Movement
The final topic is what people can do to assist the carfree movement. The following list is far from exhaustive:
Contribute funds or help raise funds (our #1 limitation now)
Volunteer as a Car Busters Internet associate
Work in your local community to hold a carfree day
Work locally to promote the redevelopment of a site as carfree
Monitor local news media for pro-car bias and write rebuttals
Apply your talents to media productions, especially humorous works
In the past five years, we have made a great deal of progress. Our agenda is starting to take a place on the stage of public discussion, and our ideas are becoming known to more people. Planners and politicians know that many of the toughest problems we face can only be tackled by reducing, if not eliminating, car use in our cities.

I continue to be surprised by one thing: we have not yet faced serious opposition from any quarter. There has been no organized effort to portray us as extremists or dreamers. The first serious efforts to discredit the New Urbanism have begun, and we may be next. Any such challenge is, in fact, an opportunity for major press attention. We need to be prepared, and we need to be seen as thoughtful, reasonable, concerned people trying to solve one of mankind's most pressing problems. That should not be difficult, as we have truth on our side and need no spin doctors.