Maps and Aerial Photographs of Fes
We were unfortunately unable to obtain original prints of these maps and photographs and had therefore to rely upon photographs taken of originals. This accounts for the poor quality shown here; the originals are very good.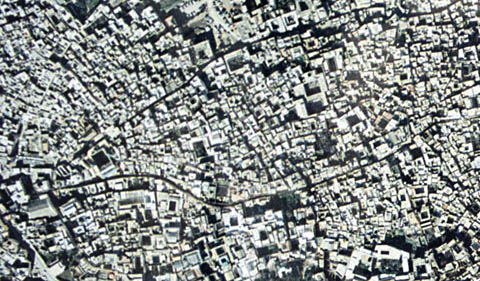 Aerial, Near Bab Boujaloud, Fes-al-Bali

This overview of the western half of Fes-al-Bali is approximately one kilometer east-west. Bab Boujaloud is just out of view to the left. Notice that most buildings have interior courtyards, most of them quite small, but sufficient to admit light and air to all parts of the building.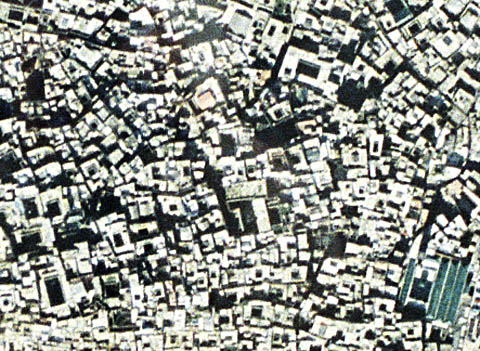 Aerial, Fes-al-Bali

This closer view of an overhead aerial shows a considerable portion of the densest part of Fes-al-Bali. Notice the extremely high average plot ratio - streets and open ground occupy very little space. This permits the attainment of high floor area ratios despite the relatively low construction. One of the large mosques is visible in the lower-right corner.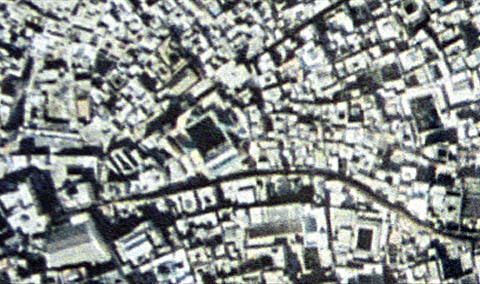 Detail, Fes-al-Bali

At the extreme limit of resolution, this photograph extends from Bab Boujaloud to the east a distance of perhaps half a kilometer. Two main streets run eastwards from the gate. The lower, curvaceous one can easily be seen. The other one strikes off at an angle and can be identified most easily in the last hundred or so meters before it runs out of the top of the photograph.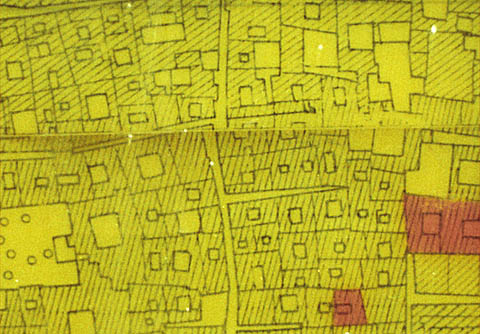 Map Showing Courtyard Housing, Fes-al-Bali

As a result of its designation as a UNESCO world heritage site, Fes-al-Bali has been carefully recorded and mapped. Virtually the entire medina has been entered into a highly detailed GIS database. This map is drawn from less precise sources but is accurate enough for most purposes. Again, we see the very high ground coverage and the prevalence of interior courtyards.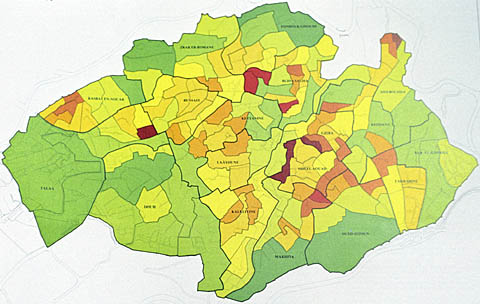 Population Density, Fes-al-Bali

This map shows the very high population density of the medina. In some areas, population density exceeds 3000 people per hectare, which must rival Hong Kong. The key to the drawing is given below.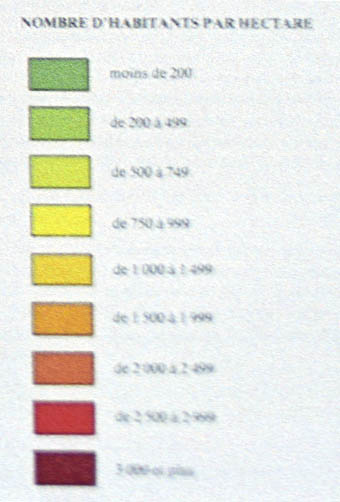 Key to Population Density, Fes-al-Bali


Go On to Marrakech
Go Back to Morocco
Return Home
About the book: Carfree Cities

E-mail
carfree.com
Copyright ©2002 J.Crawford