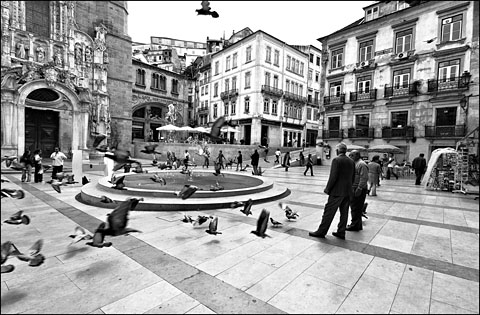 Coimbra, Portugal
©2005 J.Crawford

News Bits
Biofuels: Another Dead End
A hundred top scientists and economists have called on the EC to account for indirect land use changes (ILUC) when setting EU biofuels policy. In a letter, sent by EurActiv, they argue that assigning biofuels a zero or "carbon neutral" emissions value - as the EU has done - is not supported by science.

Flawed accounting conventions may result in the EU's target for renewable transport energy yielding no carbon savings in the real world. "It could end up as merely an exercise on paper that promotes widespread deforestation and higher food prices."

Since 2008, EU member states have been obligated to raise the share of biofuels to 10% by 2020. However, recent reports by the European Environment Agency and four other EU agencies have questioned whether meeting the EU's target would cut CO2 emissions at all. This is because the method chosen double-counts the carbon absorbed by the biofuels during their growth, and omits to count their exhaust pipe CO2 emissions.

The scientists cited research over several years, some commissioned by the EC itself, that shows that displacement of human activity by converting forests and grasslands to biofuels production can result in "substantial" CO2 emissions. The studies of land use change show that the emissions related to expanded biofuels production are significant.

Second-generation biofuels made from 'woody' material such as tree bark and leaves do not compete with food production, and so have fewer ILUC impacts. While more effective at reducing greenhouse gas emissions, they are more costly. Production is as yet essentially negligible.

All of this is a matter of vigorous political and scientific debate, of course.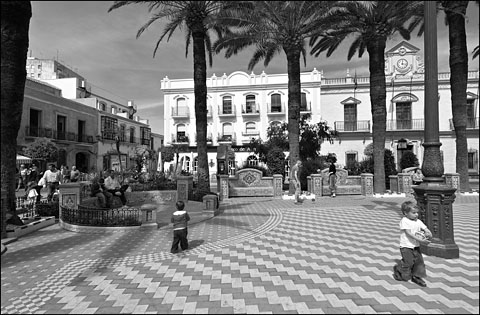 Ayamonte, Spain
©2005 J.Crawford

Traffic Pollution Damages Health
Scientists are investigating the connection between air pollution and an array of health effects. In the Los Angeles region, recent research has found connections between people living near freeways and asthma, reduced lung function, cardiovascular disease, autism, and other health effects.

The area stretching from Long Beach to East Los Angeles has been dubbed the "diesel death zone." Emissions from trucks, ships, trains, and other diesel-powered sources cloak the region, and it is suspected that many health problems are environmentally related.

Linda Birnbaum, director of the National Institute of Environmental Health Sciences, said, "Evidence is showing that traffic pollution has a huge impact on public health. Living near major roads is hazardous to your health. Period." She recently observed the underbelly of a region that faces some of the worst air quality problems in the country.

She stopped first at an overlook above the giant ports at Los Angeles and Long Beach. Together they form the sixth busiest container port in the world and the busiest in the United States. About 500 trucks an hour rumble down the Terminal Island Freeway. The carbon and ultra-fine particulate levels are extremely high due to the quadruple whammy of the ports, refineries, diesel trains, and freeways. Research has long shown that such particles lodge in lungs, where they trigger asthma attacks, heart attacks, and other respiratory and cardiovascular problems.

Air quality, particularly smog, has actually improved in the region following decades of regulation forcing the clean-up of cars, trucks, industry, and consumer products. Emissions have declined around the ports as new technologies have been put in place, including a clean-truck program that has replaced many old diesel trucks with newer models with particle filters.

Yet dangerous levels of pollution persist throughout the harbor area. Ozone, which causes smog, is still the worst in the country. Fine particles are also among the worst. In some schools, nearly a quarter of the students have asthma. Children sometimes have to stay inside when teachers smell exhaust or chemicals in the air. Of course, some emissions are odorless, including volatile organic compounds such as trichloroethylene and benzene, both known carcinogens.

Every area has its own problems stemming from traffic, coal-fired power plants, chemical factories, contaminated water, and hazardous waste. In Los Angeles County, about half of the residents, some 7 million people, live within a mile of a freeway, quite a few of them much closer. Lung function is about 10% lower in children growing up near freeways. Children born to mothers living within 309m of a freeway appear to be twice as likely to have autism.

"You've got to put a dollar figure on how much money you'd save by not having kids with asthma and people with heart attacks," Birnbaum said. "You have to turn it around and say how much money is saved by doing it the right way."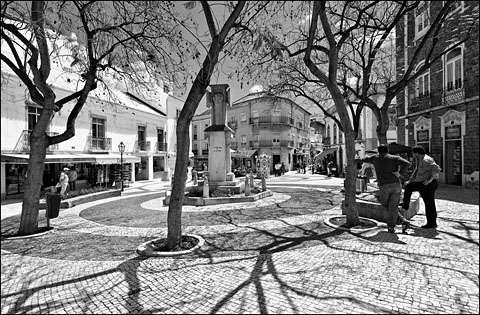 Lagos, Portugal
©2005 J.Crawford

More Bad News on the Climate
The global output of CO2 has jumped by a record amount according to the US Department of Energy. This shows just how feeble the world's efforts at slowing anthropogenic climate change have proven. The figures for 2010 show levels of greenhouse gases higher than the even worst-case scenario outlined just four years ago.

The world pumped an additional 512 megatonnes of carbon into the atmosphere in 2010 compared to 2009, a 6% increase. It was an unprecedented increase, despite the global recession. Extra emissions from China and the USA account for more than half the increase.

India and China are huge users of coal. Coal is the biggest carbon source worldwide, and emissions from coal jumped nearly 8% in 2010.

The IPCC issued its last major report on climate change in 2007. It computed various scenarios for CO2 emissions and forecast the rate of warming on the basis of the rate of emissions. The latest figures put global emissions at a higher level than the worst-case scenario. That scenario forecast a global temperatures rise between 2.4 and 6.4°C by the end of the century.

Global warming sceptics have called the IPCC's climate change panel alarmist, but scientists have actually found their predictions too conservative. The IPCC's worst-case scenario was roughly in the middle of the range that MIT predicted.

"Really dismaying," said Granger Morgan, head of the engineering and public policy department at Carnegie Mellon University, of the new figures. "We are building up a horrible legacy for our children and grandchildren."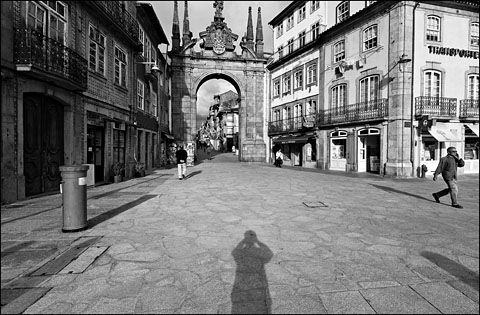 Braga, Portugal
©2005 J.Crawford

Tiny FEVE Is First European Operator of Hydrail
In July of this year, I rode Spanish FEVE's excellent narrow-gauge service from Oviedo to Ferrol. I was impressed by the entire operation, and the scenery alone is worth the trip. One of the reasons they can operate such a tight timetable is that all of the stations have high-level platforms. (By comparison, NJ Transit's Hoboken station, the third-busiest in the New York region, still has only low-level platforms.)

Little did I know that this modest regional railroad was right on the point of becoming the first railroad in Europe to test a hydrogen-powered train. (Yes, this still begs the question of where the hydrogen will come from.)

The first run was from Oviedo to Pavia and was operated by a modified older vehicle capable of carrying only 20-30 passengers at a speed of just 15-20 km/hr. Its main components are 4 motors, 2 fuel cells of 12 kW power each, banks of lithium-ion batteries, supercapacitors, and 12 bottles of pressurized hydrogen. The hydrogen fuel cells provide all of the motive power, but demand peaks and regenerated power are balanced by the batteries and capacitors, so the fuel cell output of just 24 kW is sufficient. The fuel cells are able to operate continuously at full power, which is the most advantageous circumstance. Admittedly, the speeds achieved are quite slow, but as a test bed for fuel cells and hybrid operation, the train should be sufficient to prove the concept.

The huge advantage that this system offers is the ability to provide clean-running (i.e., non-diesel) service in sparsely-settled areas that cannot support the cost of electrification. In theory, the hydrogen can be produced using renewable sources of energy, although about one-third of the energy is lost electrolyzing water, and then the hydrogen still has to be compressed for storage, which also uses quite a lot of energy. (Other storage methods have been proposed but are not, so far as I know, in practical use at this time.)

We urgently need rail motive power that provides the efficiency of electric propulsion (including the capture of braking energy) without the ugliness and expense of stringing an overhead power supply. We will be watching developments closely.