Premier Issue of Car-Free Times
Welcome to the first issue of Car-Free Times! The newsletter is published quarterly by Crawford Systems and distributed in cooperation with Future Trends International (Group) Corporation (FTI).
Each issue will be devoted to news and information about the development of sustainable, ecologically-sound cities based on extensive use of public transport for both passengers and freight. While the focus is on neighborhoods and cities that are completely car-free, we will also review developments in cities taking a structural approach to reducing car and truck usage while maintaining excellent mobility and improving the environment. The last few years have seen a dramatic increase in concerns about the various types of pollution and social damaged caused by automobiles. We have seen the dawning of an awareness of the true costs of intensive car and truck usage.
To become a charter subscriber, please see the last page of this issue for various subscription possibilities.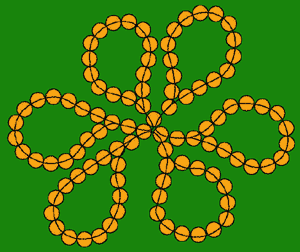 World News Notes & Comment
Each issue includes a section covering events related to the urban automobile in countries around the world. If you know of interesting developments, please pass them along for inclusion in the next issue.
Fewer Cars in Amsterdam
In a 1992 referendum, Amsterdam citizens approved a dramatic reduction in the number of cars in the inner city. Support for the referendum was highest among residents of the inner city, who are acutely aware of the day-to-day costs of heavy automobile traffic. Plans were made to implement this decision by reducing parking spaces in the inner city by 50% before the year 2002.
Adapted from: Platform Binnenstad Autovrij
Air Pollution in Delhi
Winter in Delhi, once a sunny season, is now an eye- watering fog of pollution. Breathing the air in the city's central core is equivalent to smoking 20 cigarettes a day. In the evening rush hour, 1.2 million basic two-wheel scooters weave among diesel-powered buses and heavy trucks. Overhead, billboards warn motorists to consider pollution masks. Like other megacities around the world, urban "progress" in Delhi has its price. The World Health Organization says the city's air quality may soon be the world's worst. A recent WHO report indicated that motor vehicles are turning metropolises such as Beijing, Manila, Bangkok, and Bombay into environmental time bombs. The total number of vehicles in the world is expected to double to about 1.2 billion in 20 to 30 years, with most of the expansion coming in Eastern Europe and Southeast Asia.
Adapted from Toronto Globe and Mail, 16 Feb. 1993, as reported by: Auto-Free Zone, April-June 1993, vol. 1, nr. 3, published quarterly by: Auto-Free Ottawa.
Clearly, as standards of living rise, people expect better mobility. Until now, this has been provided by the automobile and two-stroke (oil-burning) scooters, which carry high environmental costs. However, with proper planning, car-free cities can offer even better mobility at lower economic, social, and ecological costs.
Rebuilding Existing City Cores in the U.S.A.
There is increasing interest in rebuilding existing urban areas instead of expanding into adjacent rural areas, especially in places where population growth is low. Instead of occupying agricultural land, existing unused and under-utilized parcels within the city are rebuilt to meet current needs. This is cheaper, more energy efficient, and leads to a more compact city surrounded by green space. Attention is also paid to safety and social values. The resulting city is much better suited to public transport than the large, sprawling cities typical of North America. Dense city cores also give a real feeling of "place."
More information: Environmental Building News
Energy-Efficient Land Use in Canada
Policies for energy-efficient land use have been identified as follows: selective densification; growth management; residential intensification; transit-oriented developments; and conservation land trusts. Additional tools for traffic reduction are: road pricing strategies; new approaches to transportation analysis; trip reduction bylaws; free or inexpensive transit; traffic calming; traffic cells; and transit marketing.
Source: Auto-Free Zone, vol. 1, nr. 3, referring to: Towards Sustainable Communities: A Resource Book for Municipal and Local Governments, Mark Roseland.
The sustainable development movement has identified a number of land-use policies necessary to reduce the burden on the environment. These policies are entirely consistent with the car-free concept and many are an integral part of the design. One of the advantages of the car-free city is that it makes room available for green space which can be used for conservation, and land trusts offer an excellent means to assure that green space stays green.
Carbon Dioxide in the EU
Carbon dioxide emissions from vehicles will continue to rise in the European Union until the end of the century, even though the EU target is to hold year-2000 emissions to 1990 levels. (EU White Paper on transport policy, December 1992.) The White Paper contends that if current trends continue, carbon dioxide emissions from the transport sector will rise by 24% between 1990 and 2000. Technical measures to improve fuel efficiency will not be sufficient to stabilize CO2 emissions. Even a 40% increase in fuel efficiency of passenger cars by the year 2005 is insufficient to stabilize CO2 production by 2010.
Source: New Scientist, 2 Jan 1993
Worldwide CO2 output continues to increase, and with it concerns about global warming and coastal flooding. While all energy use needs to become more efficient (and ideally renewable), transport is one sector where growth is very high. Some more energy-efficient form of transport needs to replace the automobile. We need look no farther than rail vehicles for a solution. The rolling friction of steel wheels on steel rails is very low, and trains have low aerodynamic drag. Add regenerative braking and you have a means of trans- port that is energy efficient and ready for use with any renewable energy source which can produce electricity. Trams, metros, and intercity trains all provide transport at low per-seat-mile energy costs. Of course, compact, dense cities reduce the distances that must be traveled, still further reducing energy consumption and CO2 output.
Road Salt in Canada
Half the salt dumped on icy roads in winter ends up in ground water, and could eventually make it unpleasant and even unhealthy to drink. Salt is not washed away by spring rains and melting snow as had always been assumed, but accumulates underground. Only about 45 per cent of the previous winter's salt is washed downstream; the rest remains in the ground water.
Source: New Scientist, 12 Dec. 1992
Any transportation system that is the basis for daily economic activity must be available for use at all times. This can only be achieved in northern climates by plowing, sanding, and salting roads, with the result that huge amounts of salt are being applied to roads, especially in North America. Rail-based transportation is largely immune to weather-related delays, and salt is never used.
Air Pollution Harms 50% Of Canadians
More than half of all Canadians are exposed in summer to unhealthy levels of smog, which is caused mainly by automobile exhaust. Automobile traffic is increasing faster than improvements in emission controls, and levels of ozone have not improved in Ontario during the past 10 years. In addition, automobile exhaust gasses contain significant amounts of benzene, a cancer-causing agent.
Source: Toronto Star, 26 Nov 1992
Almost anything that helps to reduce gasoline consumption helps in the fight against all forms of air pollution.
Car-Sharing Works in Berlin
Stattauto is one of a number of successful car-sharing organizations in Europe.Berlin is one of 49 cities in Germany, Switzerland, and Austria where cars are shared. Stattauto in Berlin has 57 vehicles shared by 800 users. Each user has a magnetized plastic card to open a safe, placed near each car's parking spot, that contains car keys and registration documents. (The card doubles as a ticket on the Berlin public transport system and can also be used to pay for taxis, so all urban transport needs are met by a single card.) Problems have been few. In Berlin, only once has a member taken a car without booking it. Only about once a week does someone not get the car they want exactly when they want it. For more information on car sharing, write to:
Stattauto, Manteuffelstrasse 40, D-1000 Berlin 36, Germany, tel. +49 30 611 35 27.
Adapted from In Context, Winter 1993
Car-sharing is well suited to the cities with low auto usage. Peripheral garages are ideal locations for car-sharing facilities for those who occasionally need a car to travel outside the city. Advantages of car-sharing: low capital and operating costs; less space required for parking.
Miscellaneous Facts About Cars in the U.S.A.
According to the AAA, it costs $4,665 a year to own and operate a car.
US highway users paid $44 billion in fuel and vehicle taxes and tolls in 1990, but almost $75 billion was spent on highways, giving drivers a $30 billion annual subsidy.
Source: Department of Transportation, Bureau of Transportation Statistics
As people become better acquainted with the direct and hidden costs of the automobile, there is increasing interest in other solutions. The result is more interest in car-free alternatives.
A Design for Car-Free Cities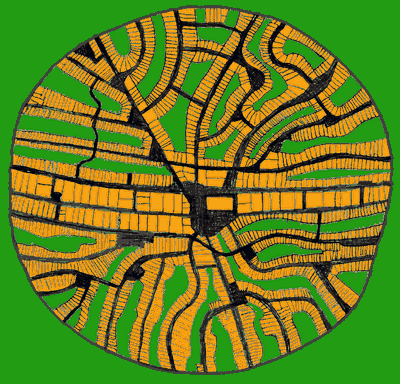 Introduction
Crawford Systems has been working for nearly a decade to develop a practical, economical design concept for car-free cities. A brochure is available describing a standard reference design for car-free cities. Please request a copy if your would like more information on this design. This document is also available in printed form, for details e-mail us.
City Design Requirements and the Car-Free City
All healthy cities meet three basic needs of both residents and businesses:
High mobility
Good habitability
Efficient use of resources
These basic needs give rise to several fundamental design requirements which form the basis for the design of car-free cities:
Fast passenger and freight transport
Transport within a five-minute walk
Nearby green space
Building heights limited to four stories
Dense construction in built-up areas
These are challenging requirements but can be met by the design now under consideration. The resulting city is energy-efficient, causes minimal pollution, has plenty of space available for productive use, and provides a high quality of life for its residents.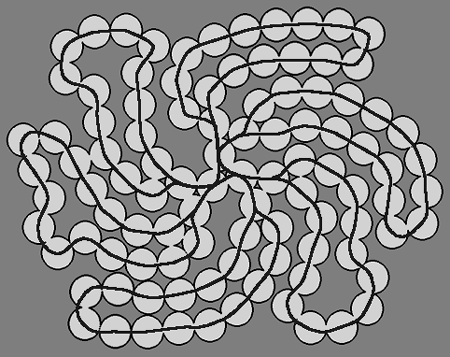 Some Variations on the Layout
The basic design for the car-free city is highly flexible. For instance, it is possible to make the city much denser than achieved by the reference design. The lobes are simply twisted tightly around the center core as shown above.